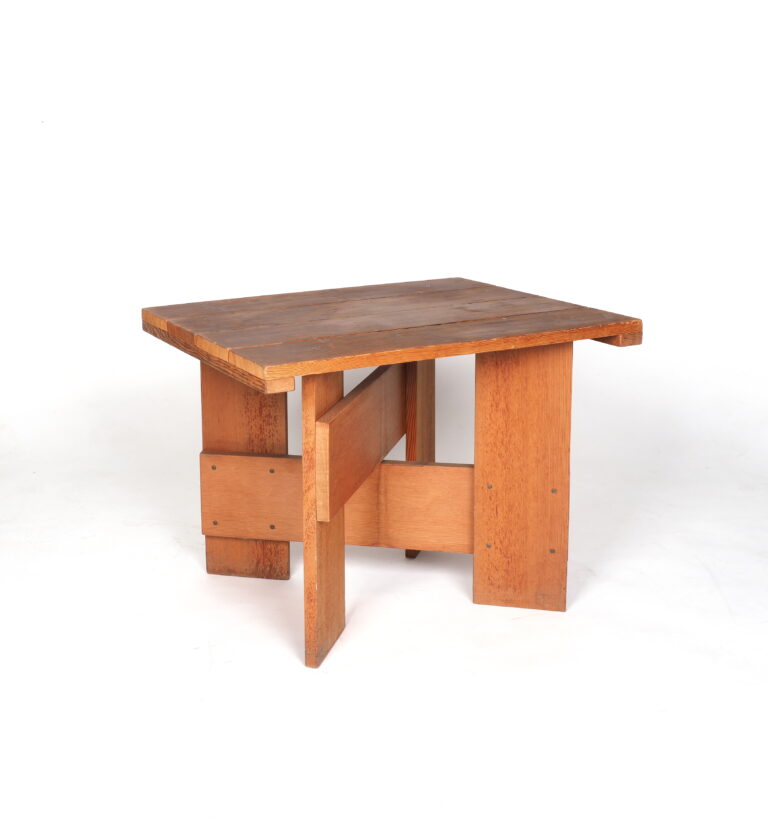 ENQUIRE ABOUT THIS WORK
Lower crate table
1934-1935Metz&Co from 1935
Unpainted spruce wood, visibly fastened together with brass screws.
63x49x47cm.
Provenance:
Galerie van den Bruinhorst
Dhr. Jaap Slot, adjunct-directeur afdeling projecten Metz&Co
Literatuur:
Peter Vöge, The complete Rietveld furniture , 010 publishers Rotterdam 1993, page 88-89
Frits Bless, 'Rietveld', Bert Bakker uitgeverij, Amsterdam 1982, page 114.
Marijke Küper, Ida van Zijl, Gerrit Th. Rietveld 1888-1964
Het Volledige werk, Centraal Museum Utrecht 1992, pag. 155, no.208.;
Petra Timmer, Metz&Co de creatieve jaren, 010 uitgeverij Rotterdam 1995, pag.104, no. 133.;
Brochure 'Weekend Meubelen', Metz&Co Amsterdam 1935.
The first 'crate furniture', as the designer and architect Gerrit Rietveld himself called it, dates from 1934. There was a chair, a cupboard and a low table, and a desk was added a year later.
Rietveld described this simple furniture as made according to the 'free carpentry method, which goes straight to its goal'.
According to him, the equal width of the parts and the open seams give a calm image.
The furniture consists of an honest construction in which nothing is hidden.
Rietveld preferred to see the furniture pure and unpainted, such as the table offered here.
The avant-garde department store Metz&Co started in 1935 in Amsterdam and The Hague with the sale of the 'Kratmeubels'. However, in a separate folder they are presented as 'Weekend furniture' with the accompanying text;"Furniture of unpainted spruce, parts visibly attached to each other. Can be supplied lacquered in any desired color against a price increase. For weekend houses, conservatories, student rooms and children's rooms.
Back to works